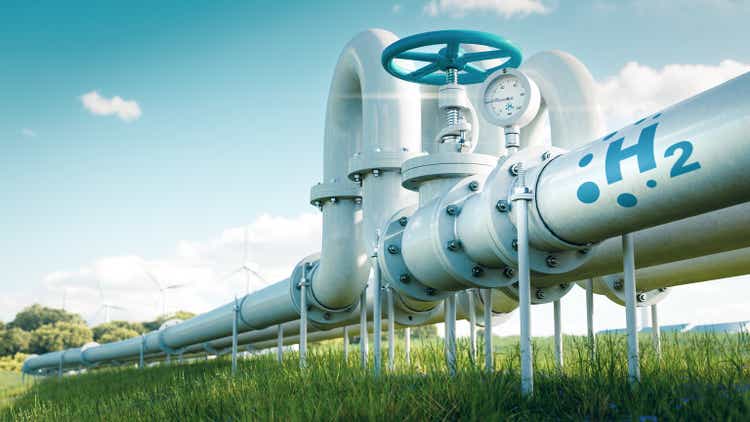 Petmal
Vision Energy (OTCQB:VENG) is a developer of infrastructure for the production of hydrogen energy. Its business model is quite straightforward, which is to propose plans to develop hydrogen infrastructure in various places in the EU. They are going to join with other backers in financing the projects, and will sell stakes in the work that they've done pre-construction. There are a couple of projects in the pipeline, and the first signs of success in getting permits should be coming in the current quarter. However, they are also burning cash and will likely need to raise equity in a dead ECM environment. We also aren't sure about the long-term value in hydrogen. For a pre-revenue company, the valuation does not look appropriate given the new market paradigm.
VENG is working to get sites, located near existing gas infrastructure, approved by governments for development of infrastructure including large tanks, jetties to receive ships, rail and truck loading infrastructure for logistics and of course places for electrolysers for hydrogen production. Once it has the plans ready for the developments along with associated permits, it needs to get backers involved, and a value for the approved projects will be captured by VENG when they sell stakes at early stages in the project. All these developments are going to be held in SPVs, and longer term one would expect VENG to have small shareholdings in a portfolio of SPVs.
The pipeline is such that two projects are expected to get government approval, or at least an answer from governments in Q1 2023, according to the last 10-K. Then there's a new project in Holland, near infrastructure in Vlissingen, where they are planning on building terminal infrastructure for hydrogen. They just submitted the applications here, and will expect an answer from governments and a final investment decision at the end of 2023. In all there are three projects, and either good or bad news will be coming this quarter on the projects awaiting approval.
While VENG has managed to get a few balls rolling, there are major financial challenges. The first is that management themselves acknowledge dangers in terms of the company remaining a 'going concern', which really just means that they have an accounting obligation to acknowledge solvency risks. Their cash is running very low, and could be depleted fully in a couple of quarters, and they will for sure have to engage with financial markets for an equity raise sometime this year in our view. Here is there 10-Q statement on the matter:
Management has evaluated the significance of these conditions and under these circumstances these conditions raise substantial doubt about the ability to continue as a going concern. However current cash on the balance sheet of $5,479,144 is greater than the net cash used in operations of $3,479,192 for the nine months ended September 30, 2022. In addition to alleviating these concerns the Company is planning for an equity raise in the next year and continuing to develop and evaluate its newest asset and ways to monetize the project.
So they will have to raise equity, but as we cover extensively on SA, there is really very little activity going on in ECM, meaning very little IPOs, and very little raising of cash from equity investors. VC is also pretty much dead for the moment, and this company is closer to that sort of profile, so VENG may have difficulties in getting a hold of cash from equity holders, especially at the current valuation of over $800 million. If an equity raise happens, not only will it dilute shareholders, it may also occur at a much lower valuation than where the secondary market has it. Current shareholders in the secondary market are mostly insiders, and lots of retail investors. Because of that shareholder structure, a deep pocket may require what will effectively be a down-round for VENG, even though it is publicly traded.
As for raising capital for the projects themselves, there is so much backing of renewable energy in Europe that they'll probably find financing for those if they get approval.
The going concern issue is serious enough, and while there is promise to get financing for the developments if they get government approval, we have worries about the long-term value of these projects.
Hydrogen is very nascent, so there's a lot of uncertainty, but what we do know is that any country seriously pursuing the consumption of hydrogen as an energy source is sourcing it entirely from brown hydrogen projects which has a major carbon footprint.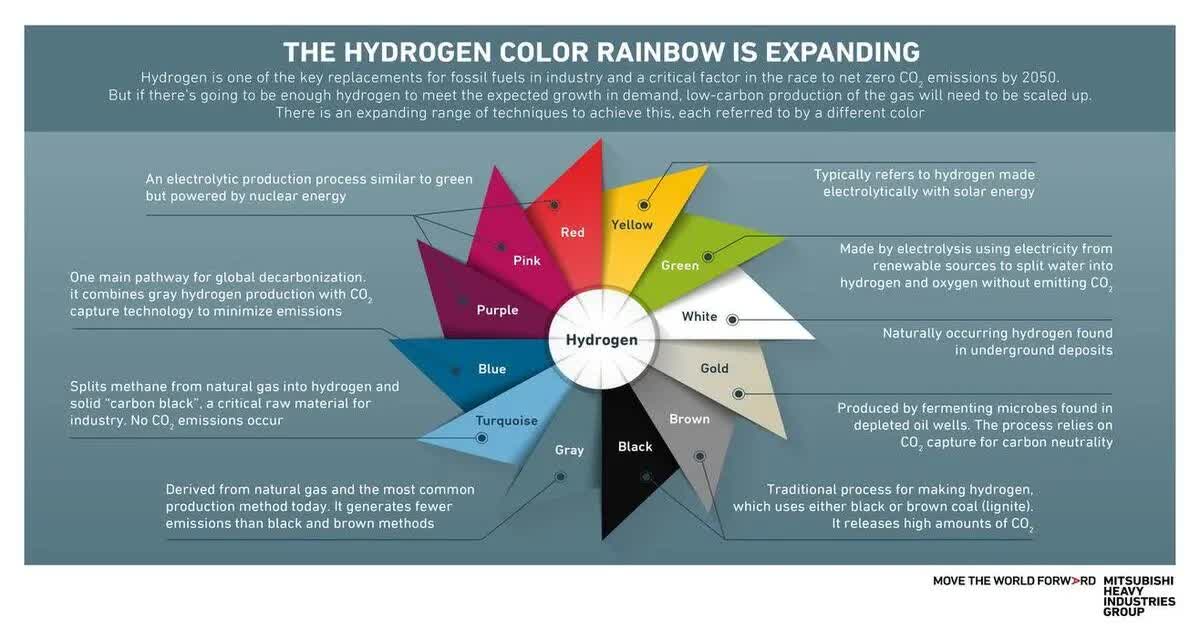 Types of Hydrogen Production (Spectra)
Japan is one of these countries, and it is investing in infrastructure to source directly from Australia which is producing coal-based hydrogen. The reason Japan is doing this is because the origin of the hydrogen does not get in the way of their attempts to meet COP 24 commitments. It's Australia's problem in this case.
Otherwise, Japan, and other countries too, are expecting to generate blue hydrogen as a transition method, which is hydrogen production powered by gas. There is some literature on this and it indicates that blue hydrogen isn't much better than gray hydrogen, and might be worse than just directly using gas for power. Things like carbon capture may be required for such efforts to be worthwhile, but this technology is expensive and complicated, and is also nascent. Also, gas is expensive now and a geopolitical tool. It will not allow for hydrogen production, at least for now, at a commercially viable cost.
Renewable energy would be great for production of hydrogen as the footprint would be much smaller, although minerals, petrochems and resins would still be needed for the manufacture of solar panels and turbines. However, the energy intensity of hydrogen production makes the geographies where such a thing is possible limited. Perhaps in Southern Australia, and other places where there's a lot of light, but you'd also have challenges in getting permits for that many wind or solar farms, and in many countries no one wants wind or solar farms at all to ruin their views or affect property values. Moreover, floating offshore, which is necessary in the many deep waters off countries' coasts, are not cost effective either. If you fully utilize geographies where renewable could be effective enough for hydrogen production, it may not be enough.
There are other issues. Green ammonia is a concept for the energy transition, and ammonia may be a better medium than hydrogen for energy. But it has more uses than just energy. It use as fertilizer is incredibly important, especially now as geopolitics have affected ammonia supplies. Renewable ammonia production will then be competing with renewable hydrogen, or at least renewable ammonia for the purposes of energy.
A final note, and this is one we've discussed on the Value Lab, is that Palladium and other PGMs will also likely be required for hydrogen infrastructure, both in gas leak detection, but also for lining all terminals and all pipelines as well as for the production itself. Russia has a huge proportion of Palladium deposits worldwide, almost half. Hydrogen infrastructure will be exceptionally expensive for Western Economies. Gulf nations and other non-aligned countries could be fine on this front, but not most of the countries part of COP 24 and with pre-existing plans for supporting hydrogen production.
There's no assurance that hydrogen is an actual solution, let alone a cost effective one. With the financial challenges for VENG too, and now the total reliance on capital markets with no revenues and almost $1 billion in market cap, we'd have very serious concerns as investors. Where the cost of capital is high, we're not sure who would want VENG among the few still engaging with companies through ECM.
Editor's Note: This article discusses one or more securities that do not trade on a major U.S. exchange. Please be aware of the risks associated with these stocks.
If you thought our angle on this company was interesting, you may want to check out our idea room, The Value Lab. We focus on long-only value ideas of interest to us, where we try to find international mispriced equities and target a portfolio yield of about 4%. We've done really well for ourselves over the last 5 years, but it took getting our hands dirty in international markets. If you are a value-investor, serious about protecting your wealth, our gang could help broaden your horizons and give some inspiration. Give our no-strings-attached free trial a try to see if it's for you.


This article was written by
Valkyrie Trading Society seeks to provide a consistent and honest voice through this blog and our Marketplace Service, the Value Lab, with a focus on high conviction and obscure developed market ideas.
DISCLOSURE: All of our articles and communications, including on the Value Lab, are only opinions and should not be treated as investment advice. We are not investment advisors. Consult an investment professional and take care to do your own due diligence.
DISCLOSURE: Some of Valkyrie's former and/or current members also have contributed individually or through shared accounts on Seeking Alpha. Currently: Guney Kaya contributes on his own now, and members have contributed on Mare Evidence Lab.
Disclosure: I/we have no stock, option or similar derivative position in any of the companies mentioned, and no plans to initiate any such positions within the next 72 hours. I wrote this article myself, and it expresses my own opinions. I am not receiving compensation for it (other than from Seeking Alpha). I have no business relationship with any company whose stock is mentioned in this article.