© 2022 dot.LA. All rights reserved
  Get in the KNOW  
  on LA Startups & Tech  
David Shultz is a freelance writer who lives in Santa Barbara, California. His writing has appeared in The Atlantic, Outside and Nautilus, among other publications.
Ah Southern California, the land of movie stars, glamor, and beauty. A paradise of botox, silicone, and saline. A perfect incubator for a cure for baldness. Maybe.
Several new scientific studies have cropped up in recent months with tantalizing results that suggest researchers are narrowing in on the mechanism that makes hair start growing. At UC Irvine, Maksim Plikus's research showed that a molecule called SCUBE3 can stimulate new hair growth in mice when injected into the skin. An hour north, at UC Riverside, complementary research by Qixuan Wang is delving into the same mechanics.
Both groups are focusing on a receptor in hair follicle cells called TGF-β, which plays several roles in virtually every tissue in the body. Critically, the receptor is involved in deciding when cells divide and die. By stimulating these proteins correctly–with the right molecules, in the right concentrations, at the right time–researchers are beginning to reactivate dormant hair follicles in mice.
These therapies have a long road ahead of them before they're available in your local pharmacy. But that hasn't stopped Plikus from co-founding Amplifica Holdings group with the intent of doing just that. Any treatment using SCUBE3 is probably 2-3 years away from human trials, but the company has other hair-loss therapy compounds in the pipeline that might be ready for human trials sometime next year, says CEO Frank Fazio. Amplifica is keeping its cards extremely close to the vest for now, and wouldn't say anything about what type of molecule they're using or how it works. Fazio would only say that the company is "laser-focused" on hair loss.
"We have two compounds that are going to be studied with the hopeful intent of actually having an impact on hair growth and hair restoration," he said. More information should be available soon, however: Fazio says Plikus has new research that's under review in "a prestigious journal" which should give some insight into what Amplifica is targeting with these first drugs.
The company is in the process of raising a $10 million Series A to get operations off the ground and transition it out of research and development and into clinical trials. In addition to potentially treating disorders like alopecia areata and regrowing hair in scar tissue, Plikus estimates that the hair loss market could be worth $12 billion by 2025.
There are several existing drugs on the market already, but they come with long term side effects and aren't universally effective. Ninety percent of new drugs fail in clinical trials, but if Amplifica succeeds, the drugs could be life-changing and the return on investment massive.
David Shultz is a freelance writer who lives in Santa Barbara, California. His writing has appeared in The Atlantic, Outside and Nautilus, among other publications.
Gardena-based GrayMatter Robotics, an industrial robotics firm, raised a $20 million Series A round to accelerate hiring engineering and development staff for its mission of training robots to do menial factory work currently done by humans.
GrayMatter's artificially intelligent robots and sensor networks are used to automate factory tasks the company deems too boring or ergonomically challenging for humans.
The robotic arms are suitable for a wide array of manufacturing tasks, but right now they're mainly used for surface finishing — including the tedious task of sanding parts by hand, which is increasingly becoming a task humans are keen to let robots do. GrayMatter's main product is Scan&Sand, and it uses smart robotics to finish and treat surfaces.
"There are about 9,000 robots compared with more than 1.5 million people involved with surface treatment in the U.S., but the latter is shrinking," GrayMatter CEO Ariyan Kabir told trade outlet Robotics 24/7 Tuesday. "We received investment because we've developed solutions with real commercial value, we're not just building technology for the sake of building technology."
GrayMatter and Kabir didn't immediately return dot.LA's request for comment. According to Pitchbook, the company has raised roughly $24 million since its 2020 launch following this funding round.
The raise was led by new investor Bow Capital. Swift Ventures, also a new investor, also joined the round. Existing investors including B Capital Group, OCA Ventures, Pasadena-based Calibrate Ventures, Los Angeles-based Stage Venture Partners, Pathbreaker Ventures, and 3M Ventures – the investing arm of manufacturing conglomerate 3M – also contributed funding.
"We are improving shop workers' lives, enhancing their productivity, and enabling them to focus on higher-value tasks," Kabir said in a statement Tuesday. "Manufacturing drives our economy, and without automating surface finishing and treatment, there is a significant risk the global economy may suffer due to the increasing labor shortage."
Samson Amore is a reporter for dot.LA. He previously covered technology and entertainment for TheWrap and reported on the SoCal startup scene for the Los Angeles Business Journal. Send tips or pitches to [email protected] and find him on Twitter at @Samsonamore. Pronouns: he/him
Historical documents, records and important artifacts are sometimes locked away in vaults (until a museum or library wants to showcase them), and under restricted access. Thomas McLeod believes that these artifacts hold great value and have the potential to impact communities, so he founded Arkive, the first decentralized, physical museum.
The inspiration for Arkive came from McLeod's previous company, Omni, a physical storage company acquired by Coinbase in 2019.
"We thought it would always be like utility items and we started getting full sneaker collections, vintage posters, records, comic books that were valuable and we kind of had a panic attack," McLeod told dot.LA. "The business [Omni] was built around storing bikes, and you can't put a vintage record next to a dirt bike. They just don't store in the same manner."
McLeod was fascinated by the items and collections that came through the door. To him, it felt like browsing a museum of curated items that everyday people collect.
That's when McLeod knew he was onto something.
McLeod has built startups before. Past projects included Pagelime, acquired in 2015 by SurrealCMS, and in 2012 LolConnect was acquired by Tencent.
The items in Arkive's collections are hand-selected by members who vote on what items they want to acquire. The organization currently has 300 active users, and there are hundreds on the waiting list. McLeod confirmed to dot.LA that they will increase the number of members admitted to 50 people each week with plans to cap admissions at 1,000 for the first phase. He added that while membership is free today, that will likely change in the future.
People interested in becoming members must apply on Arkive's website, where they will answer individual questions about their interests and occupations.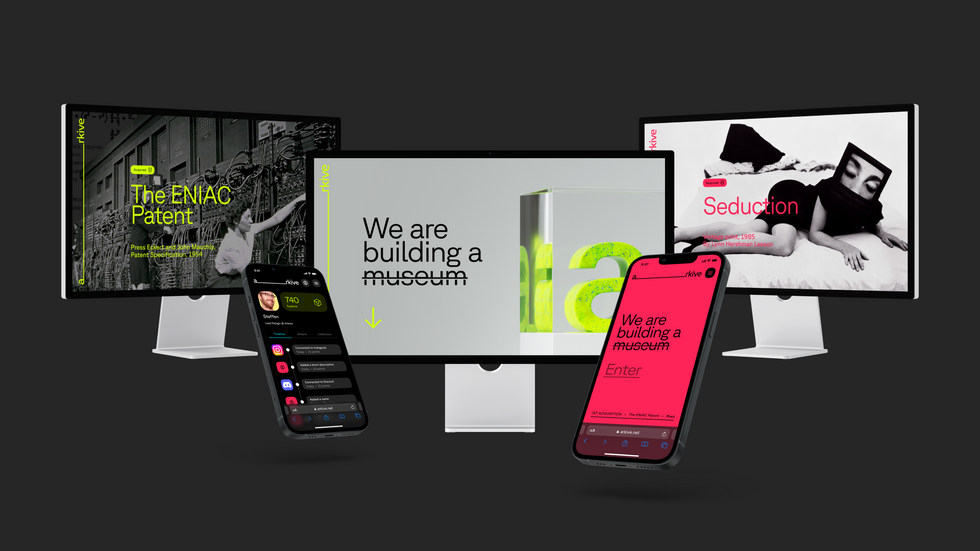 Arkive's physical, blockchain-inspired museum is coming to Santa Monica. Courtesy of Arkive
Just as museums have a lobby, Arkive has its "atrium." In this space, every member enters and registers their cryptocurrency wallets. Once registration is complete, members can vote on the blockchain for the artifact or piece of art they want Arkive to acquire. Prior to voting, to ensure they are well informed, members will have the opportunity to learn about each artifact from the artist, the gallery or the collector who previously held the item.
Since there is a surplus of artifacts around the world, Arkive's team of curators handpick options that are relevant to the current theme: "When Technology Was a Game Changer." While each round of voting is different, McLeod said the voting window for members usually lasts five days (M-F).
Arkive has acquired two items since coming out of stealth mode, the first one being the original patent for the ENIAC – known as the world's first programmable, electronic general-purpose computer. In addition to ENIAC's patent, members also voted to acquire Seduction (1985), a vintage print by Lynn Hershman Leeson, which will be part of Arkive's first public exhibition at the Art Basel Miami Beach in December 2022. Once items are acquired, they will be loaned to museums or galleries to be placed on display for the public to enjoy—at locations Arkive members believe have the most significant cultural impact.
"For instance, the ENIAC patent, we would love it if it lived at the Computer History Museum in San Mateo. If we acquired a Frida Kahlo, we would love it if it was in Mexico City or somewhere that mattered to her art or the family that she was a part of," McLeod said.
The Santa Monica-based startup announced last week that it raised $9.7 million in a seed funding round led by Offline and TCG Crypto. Other participants included NFX, Freestyle Capital, Coinbase Ventures, Not Boring Capital, Precursor, Chainforest, Coil, Julia Lipton, Joe McCann, Chris Cantino, Marty Bell and Paul Veradittakit.
"People who committed were all the way in and did not hesitate to support and be a part of the journey," McLeod said. "It got us the right people that are in it for the long haul and really care about not just the business but the potential cultural impact that it could have. So having the right investors to me is more important than just money."
Some of the funding will be allocated towards expanding the team, but a majority of the capital raised will go into acquiring more artifacts. McLeod said Arkive has three more acquisitions lined up in the next three months, but the eventual goal is to acquire two pieces a month.
Correction: An earlier version of this piece misspelled Thomas McLeod's last name.
Decerry Donato is dot.LA's Editorial Fellow. Prior to that, she was an editorial intern at the company. Decerry received her bachelor's degree in literary journalism from the University of California, Irvine. She continues to write stories to inform the community about issues or events that take place in the L.A. area. On the weekends, she can be found hiking in the Angeles National forest or sifting through racks at your local thrift store.
© dot.LA All rights reserved