Wellness
Dr. Michele S. Green
Michele S. Green M.D., FAAD., is a Board-Certified Cosmetic Dermatologist, Fellow of the American Academy of Dermatology, and has been an international leader in cosmetic dermatology for over 25 years. Upper East Side patients and those around the globe flock to her practice for cosmetic dermatology treatment. A graduate from Yale University, with an MD and Chief residency from The Mount Sinai School of Medicine in NYC, Dr. Green treats some of the most discerning, demanding women and men in the world, with issues ranging from premature skin aging to hyperpigmentation, rosacea, wrinkles, acne, skin laxity, hair loss, and sun damage.

Photo Credit: Dr. Michele Green
For men and women alike, hair loss and hair thinning can be a devastating occurrence. For many women, alopecia, or hair loss, can be a particularly distressing experience and can severely affect the person's self-esteem. Though women with healthy hair can experience shifts in hair shedding, thinning hair or an increase in the amount of hair shedding can indicate greater problems with hair growth. While it is more common for men to experience hair loss than women, the gap is far smaller than many would guess. The American Hair Loss Association has found women account for about 40% of those who deal with hair loss in the United States, which adds up to over 30 million women in total, according to the American Academy of Dermatology. 
If you're frustrated by new hair loss or a continued pattern of hair thinning, board-certified NYC dermatologist, Dr. Michele Green is here to help. Dr. Michele Green is an expert in cosmetic and medical hair loss treatments and one of the first dermatologists in New York to incorporate PRP to treat both male and female pattern hair loss patients, as well as oral Minoxidil, Spironolactone, and Finasteride. Whether your hair loss is from stress, hairstyles, hormones, medications, or other medical conditions, Dr. Green will do a full assessment of your hair loss, quality of hair and your scalp to diagnose the cause of your hair loss. 
The most common types of hair loss include androgenetic alopecia, alopecia areata, telogen effluvium, and traction alopecia. Additionally, changes in hormone balance caused by certain medications, illnesses such as COVID-19, stress, dramatic weight loss, and menopause, can all lead to thinning hair and hair loss. 
When considering the various types of hair loss, it's important to consider it in relation to the hair growth cycle. The hair growth cycle is defined by four stages: growth phase (anagen), transition phase (catagen), rest phase (telogen), and shedding phase (exogen). Many of these types of hair loss are classified by the way in which the hair growth cycle is affected, and hair regrowth often explores hair care that can benefit different phases of the cycle.
It's a condition that is whispered about in hair salons, but it's rarely spoken about in public. The truth is, female hair loss is an issue that millions of women face, and it affects nearly 50% of women in their lifetime. Female hair loss can be caused by changes in hormones, shock to the body, or even repeated hair styles. Hair growth and appearance can be an incredibly intimate part of a person's identity, and hair loss can deeply impact the way that we feel about our look.
Female pattern hair loss (FPHL), also known as female androgenetic alopecia or androgenic alopecia, can affect around 40% of women by age 50. This is caused by a reduction in hair volume, combined with hair shedding from resting hairs. FPHL can be a frustrating condition for many women, particularly those with early signs of thinning hair.
Interestingly enough, female pattern hair loss is very different than male pattern baldness in how it appears. Male pattern balding is usually noticeable via a receding hairline or bald patch atop the head, forming an "m"-shaped pattern, but females do not generally follow a particular pattern. Within FPHL, hair shedding is more evenly distributed, though it can often begin with hair thinning along the top of the head, as well as a widening part line. For many, it may be their part getting wider, but for others it may be thinning hairs near their temples that are seen first – generally, the thinning is more widespread than for males.
Thankfully, recent research in the world of dermatology has led to new discoveries in hair restoration. Studies have shown that platelet-rich plasma treatment, or PRP injections, is an effective way to improve new hair growth and hair thickness. The use of PRP for treating hair loss uses your own blood to apply stimulating growth factors to the scalp, using a centrifuge to separate out red blood cells from restorative white blood cells and platelets that are vital for regenerative treatments within the body. PRP therapy requires virtually no downtime and can help to stimulate increased hair count and hair growth at and around a PRP injection site, creating a healthy head of hair.
As for the cause of FPHL, genes can be inherited from either parent but, unlike male pattern baldness, androgens are not the only reason for female pattern baldness, or 'female androgenetic alopecia'.  Androgens are hormones which do play a significant role in both hair growth and sexual function. For some women, an increase in androgens, testosterone, can be the cause for the hair loss. In others, it can be caused by a decrease in estrogen levels. FPHL is more common after menopause, suggesting estrogens may also have some more direct relationship.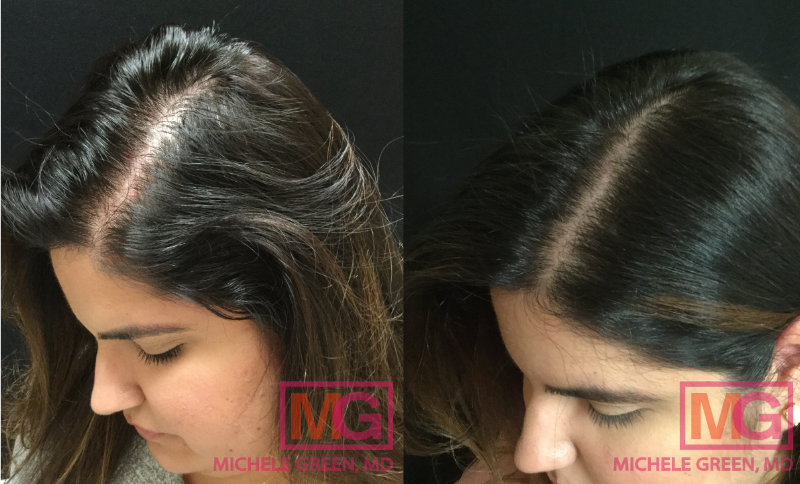 Photo Credit: Dr. Michele Green
There are so many changes that occur around being a new mom, with the biggest and most exciting being the arrival of your new child. But throughout the experience of pregnancy and birth, and in the months postpartum, a woman's body is going through so many changes. Hormone levels are shifting during and after pregnancy, which can have an effect on your skin and hair. During the pregnancy, many women find that their hair is thicker and fuller than ever before but afterwards, between 40% and 50% of women postpartum, may experience the alarming condition of postpartum hair loss.
It is natural for people to shed their hair – in fact, on average, women lose 100 hairs a day. However, hormonal changes in women postpartum can lead to excessive shedding of the hair. The discovery of this condition can often feel like a bad dream: you are brushing your hair and notice a whole clump comes away on the brush, or you are washing your hair in the shower only to rinse out the shampoo and find a large swath of your hair clogging the shower drain. After so much change, postpartum hair loss can feel overwhelming and anxiety inducing. But rest assured, the condition is very common and only temporary. While there is not much to be done in terms of prevention, below you will find many methods for helping to mask or lessen the symptoms, including choosing the right hair care products, hair styles, and supplements.
Platelet-rich plasma (PRP) is a highly effective hair loss treatment. Platelet-rich plasma scalp injections are a non-invasive therapy for hair restoration that relies on the patient's own natural proteins and growth factors to encourage healthy hair development. By using your own concentrated platelet-rich plasma (taken from a blood sample and concentrated via centrifuge), growth factors and proteins can be injected back into the scalp, helping to restore weakened hair follicles and boost new hair growth.
Platelet-rich plasma therapy relies on a variety of incredibly beneficial growth factors in order to improve blood vessel formation near hair follicles, enhance cell growth, and help to boost collagen formation. These growth factors include platelet-derived growth factor, vascular endothelial growth factor, epidermal growth factor, fibroblast growth factor-2, and insulin-like growth factor-1, among others.
Dr. Green has conducted her own review on the effectiveness of platelet-rich plasma for hair regrowth, and her findings are supported by multiple additional studies on hair loss. The Journal of Cosmetic Dermatology, Aesthetic Plastic Surgery, Dermatologic Surgery, and International Journal of Women's Dermatology all cite positive results from platelet-rich plasma therapy on patients experiencing hair loss, and Dr. Green's platelet-rich plasma hair loss treatment patients are a testament to its success.
If you're frustrated by new hair loss or a continued pattern of hair thinning, Dr. Michele Green is here to help. Dr. Michele Green is an expert in cosmetic and medical hair loss treatments and one of the first dermatologists in New York to incorporate PRP to treat both male and female pattern hair loss patients. Dr. Green has been consistently voted as one of the "Best Doctors" by Castle Connelly, New York Magazine, Super Doctors, and The New York Times as a pioneer in the field of cosmetic and medical dermatology. Please call the office today at 212-535-3088 or contact us online to schedule a consultation to discuss if you are suffering from undesirable signs of aging on the face or body, it's time to schedule a consultation with Dr. Michele Green in New York. 
For more information, visit Dr. Michele S. Green's social media:
Stay up-to-date with the latest beauty and wellness news straight to your inbox
* All fields are mandatory