By Editor on June 7, 2022 1:59 PMComments Off on Rockwall YMCA, Highland Meadows Health & Rehab to present free Lunch & Learn program on Healthy Aging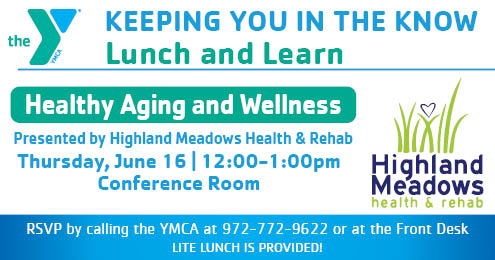 ROCKWALL, TX (June 7, 2022) Highland Meadows Health and Rehab will present a FREE Lunch & Learn program from noon to 1 PM Thursday, June 16 at the JER Chilton YMCA at Rockwall covering myths on aging, sensory/motor changes, medication/neuropathy/low vision, fall prevention, exercise relationships, diet and hydration, and proper footwear.
The event is open to the public and a light lunch is provided. You do not have to be a member of the YMCA to attend.
RSVP by calling the YMCA at 972-772-9622 or sign up at the Y's Welcome Desk.
Blue Ribbon News staff report. 


(adsbygoogle = window.adsbygoogle || []).push({});



aging, health, highland meadows, JER Chilton YMCA, lunch and learn, Rockwall, YMCA


Rockwall YMCA, Highland Meadows Health & Rehab to present free Lunch & Learn program on Healthy Aging added by Editor on June 7, 2022 1:59 PM
View all posts by Editor →